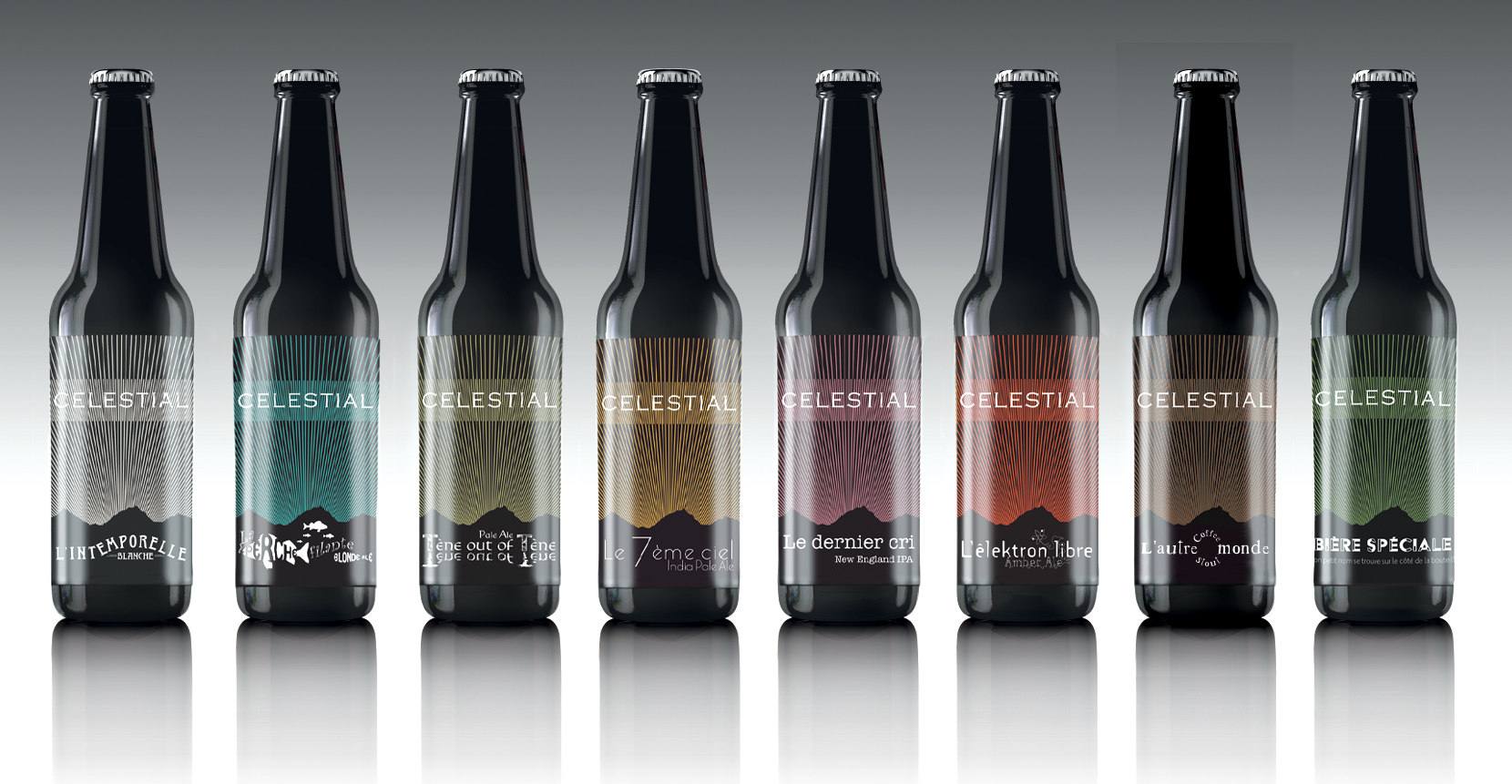 Brewed with 100% organic grain, most of which was grown on a farm near the brewery!
This is a light wheat beer in the Belgian style (witbier), with characteristic aromas of citrus and spice. It is low in bitterness.
Alc. 5,0%     IBU 10
L'intemporelle food pairings: seafood, fish (including raw fish as used in sushi and ceviches), spring vegetables, salads, mildy spicy dishes, and goat's milk cheese. Brewed with 100% organic grain, most of which was grown on a farm near the brewery!
This is a delicately fruity blonde ale fermented with Kveik yeast. It is low in bitterness.
Alc. 5,0%     IBU 10
La perche filante food pairings: perch fillets and other fish from the lake, the Neuchatel unleavened bread known as 'sèche', Neuchatel sausage and 'britchon' cheese. But since it's such an easy-going and inclusive beer, it pairs well not only with Neuchatel specialities, but almost every dish under the sun.
This is a dry-hopped pale ale with medium body and aromas of tropical fruit. It is moderate in bitterness.
Alc. 5,5%     IBU 35
Tène out of Tène food pairings: poultry, fish, sausages, pasta dishes, pizzas, potatoes, green vegetables, and moderately spicy dishes.

This is a heavily dry-hopped, crisp IPA with aromas of pine and citrus fruit. It has robust bitterness.
Alc. 6,1%     IBU 45
Le 7ème ciel food pairings: pork dishes, ribs, grilled meat, pulses, spicy dishes, and creamy and nutty cheeses.

This is a juicy IPA with a complex grain bill that includes rye, wheat and oats, all of which contribute to its silky mouthfeel. A specially selected yeast combines with large quantities of European and American hops, added on the cold side, for a taste bomb of stone fruit. It is moderate in bitterness. 
Alc. 7,2%     IBU 35
Le dernier cri food pairings: turkey, fowl, game, wild mushrooms, polenta, sweet-and-sour sauces, and pumpkin and butternut dishes.

This is a well-balanced American style amber ale, lightly hopped to bring to the fore flavours of caramelised malt. It is moderate in bitterness.
Alc. 5,0%     IBU 30
L'êlektron libre food pairings: cured meats (salami and cured hams in particular), tart vegetables, grilled or smoked meat, duck, ripe cheeses, and desserts with fruit.

This is a dark stout with intense aromas of coffee, chocolat and caramel, and notes of marmelade. It has a robust bitterness and is dry-hopped with Tree Frog whole coffee beans from our local craft coffee roaster Okapi Coffee.
Alc. 6,8%     IBU 50
L'autre monde food parings: cured sausages, dried fruit, nutty cheeses, fruit pies and tarts, and chocolate or coffee-flavoured desserts.
SPECIAL AND SEASONAL BEERS
Our bottled seasonal beers currently available are Monoceros, our collaboration pilsner brewed with Neuchâtel barley as the only grain, La culottée, an apricot kettle sour and Brut de Brute, our dry blonde with grape must from Neuchatel. 
Below is a selection of our seasonal and special beers:
BRUT DE BRUTE
A light blonde ale fermented with Chasselas must from the vineyards of Neuchâtel and hopped with Hallertau Blanc.
Alc. 8%      IBU 15
PETIT PAPA DANIELSSON
Our Christmas amber with oak chips from a rum cask, orange, clementine and cardamum.
Alc. 5,6%      IBU 25
LAPIN FEROCE
A rich, wooded stout with cocoa nibs.
Alc. 10%      IBU 50
LA CULOTTEE
A delicately tart Berliner Weisse fermented with apricots from Valais.
Alc. 4,5%      IBU 7
RHUBERRY 
This delightfully tart Philly Sour is fermented with strawberries and rhubarb.
Alc. 4%      IBU 7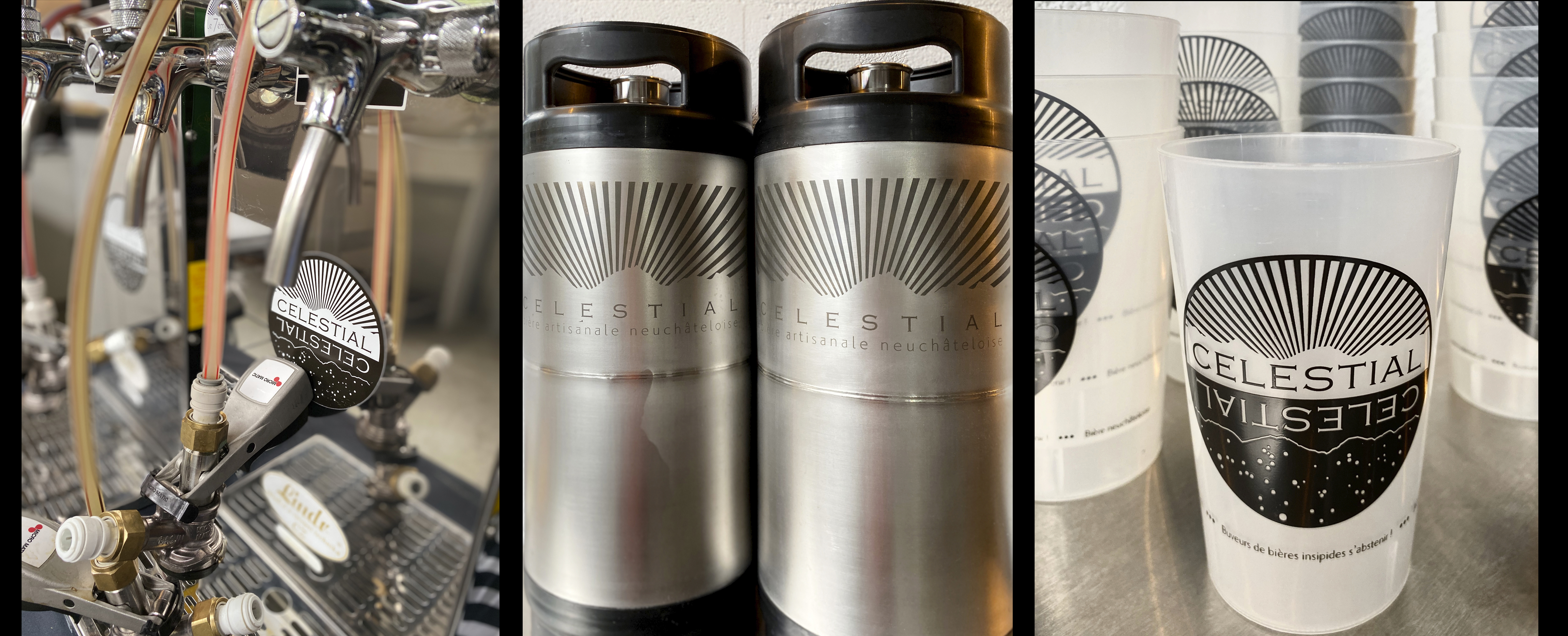 Order kegs of any of our beers for your parties, events, bars or restaurants. Our kegs hold 10 litres or 20 litres and have S-type heads.
Prices vary based on the style of beer. Please contact us for our price list.
We also rent beer coolers, bottles of C02 and reusable plastic cups.
If you have a large order, we can lend you the extra material instead of you having to rent it.