We won two best in category prizes in the '2ème Concours de la bière artisanale neuchâteloise' (2nd Neuchatel Craft Beer Competition): for our IPA (Le 7ème ciel) and our apricot kettle sour (La culottée)!
OPENING HOURS
We now have late-night closing on Thursdays! The brewery's shop will be open from 2 to 8 p.m.!
Our shop's opening hours are:
2 to 8 p.m. on Thursdays, and 2 to 6 p.m. on Fridays and Saturdays

If you're passing by and see that the brewery's open during legal business hours, come in and buy some beer to take home

By appointment: give us a call!
TASTINGS AND BREWERY VISITS
You can now be as few as two people for a tasting and visit!
Fill in the reservation form on our site.
The dates for tastings until the end of 2022 are:
29 September, 20 October, 24 November and 22 December
OUR OPEN-DOORS EVENINGS: 'JEUDREDI DE BIEROLOGIE'
Come over and have a draught beer and a bite to eat! 
The dates for our open-doors evenings until the end of the year are:
29 September, 20 October, 24 November and 22 December
Registration is now mandatory. Here's where to go: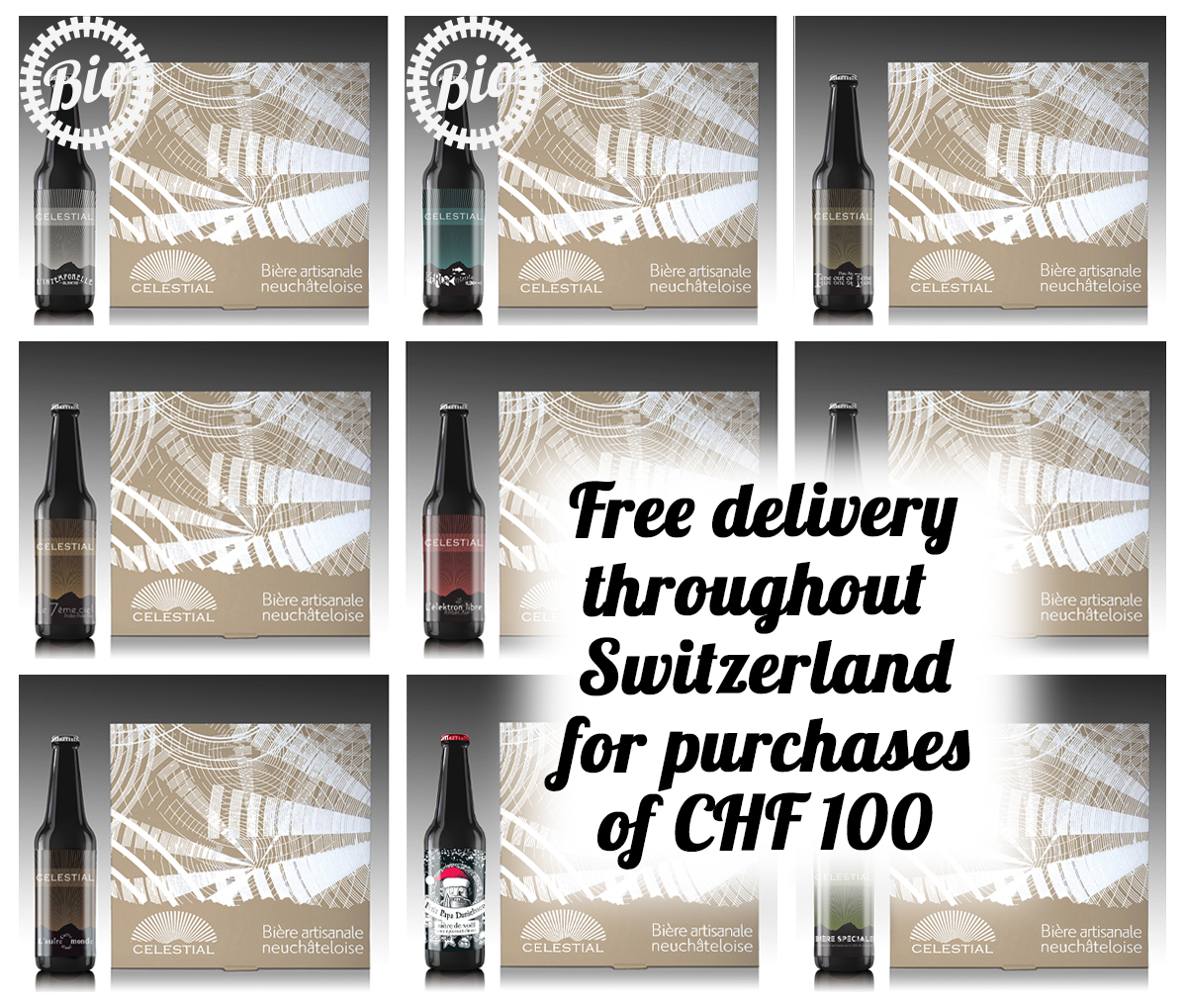 You: I don't have the energy to go out shopping! And I hate carrying heavy bags!
Us: Did you know you can stay comfortably at home AND buy our beer on line? And the best part is that you won't have to pay for shipping for orders of CHF 100 or more!
You: What an absolutely amazing offer!
Us: Oh thanks! We're blushing right now!
You: This is all very lovely but perhaps you could stop inventing conversations and get back to brewing.
Us: Erm yes, you're right… The link to our website is just below… 
NEW PRODUCT: OUR 10-LITRE KEGS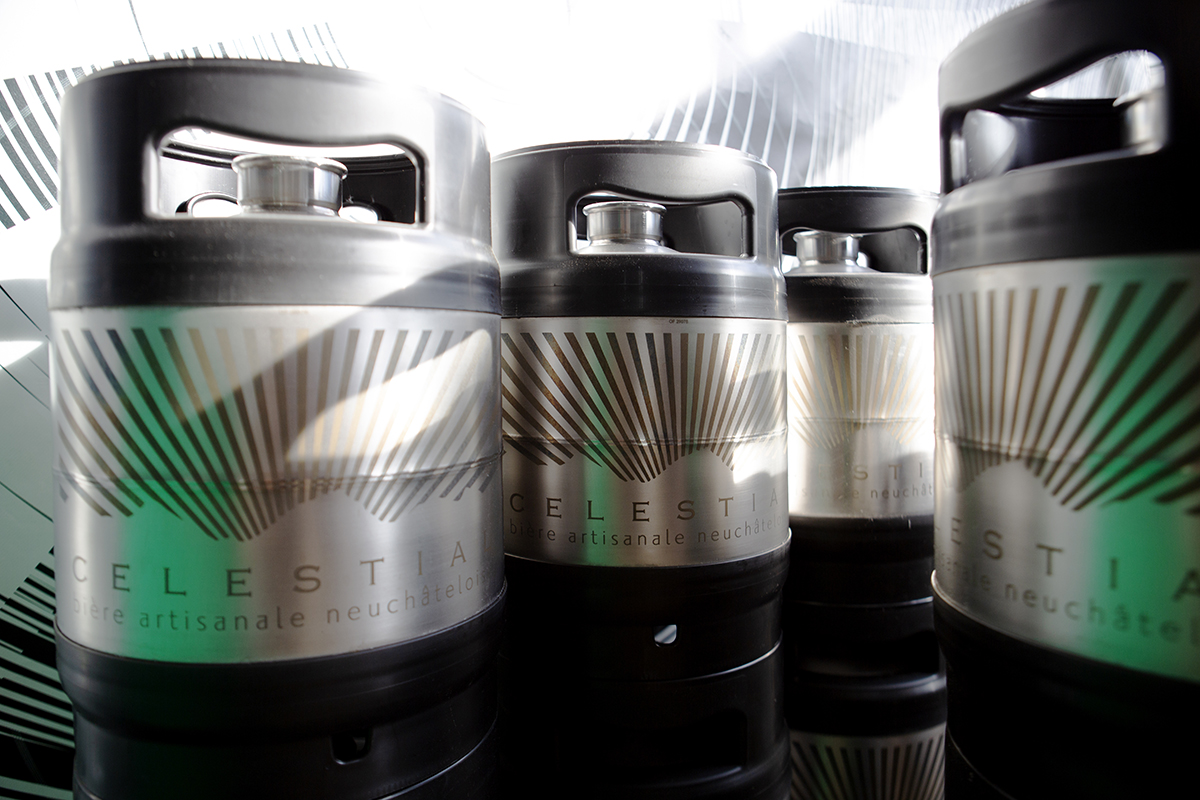 10-litre kegs for your block party, birthday or wedding, because sometimes 20 litres is just too much!
They're also perfect if you want to serve two different styles of beer.
Contact us for a price list.
CELESTIAL SPECIALS AVAILABLE NOW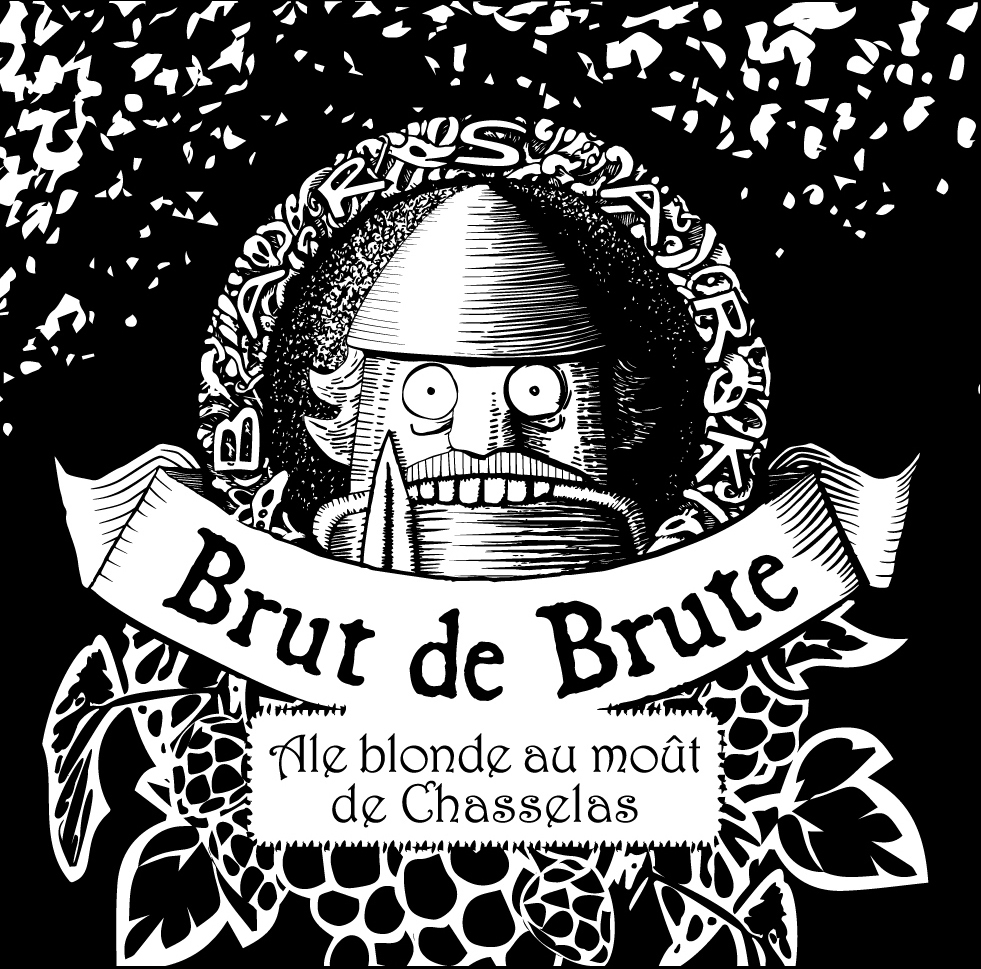 BRUT DE BRUTE
Our blonde ale with Neuchatel grape must is back. Summer can begin! 
Alc.: 8%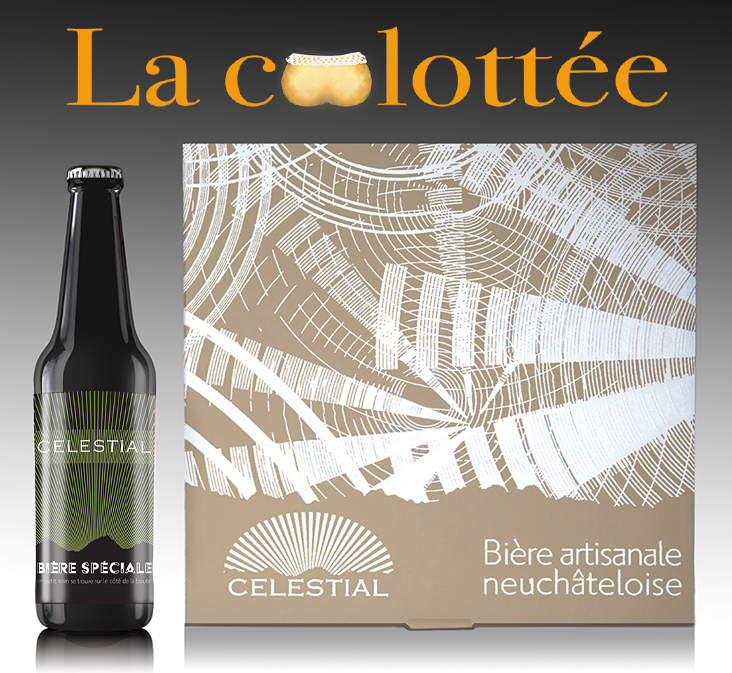 LA CULOTTEE
Our deliciously tart apricot kettle sour is back to tickle your taste buds!
Alc.: 4.5 % 
MONOCEROS
Our collaboration pilsner with La Meute is now on sale at at the brewery!
This beer was brewed only with organic barley grown on a farm in neighbouring Wavre (NE). The grain was malted in Bavois VD and the beer dry-hopped with Tettnanger, a Swiss noble hop.
Our pilsner is called 'Monoceros', the Latin name for the unicorn constellation. The name incorporates the iconography of the two breweries (animals and the heavens) and recalls the great purity of this beer.
HAVE A DRINK WITH US: THE 'JEUDREDI DE BIEROLOGIE'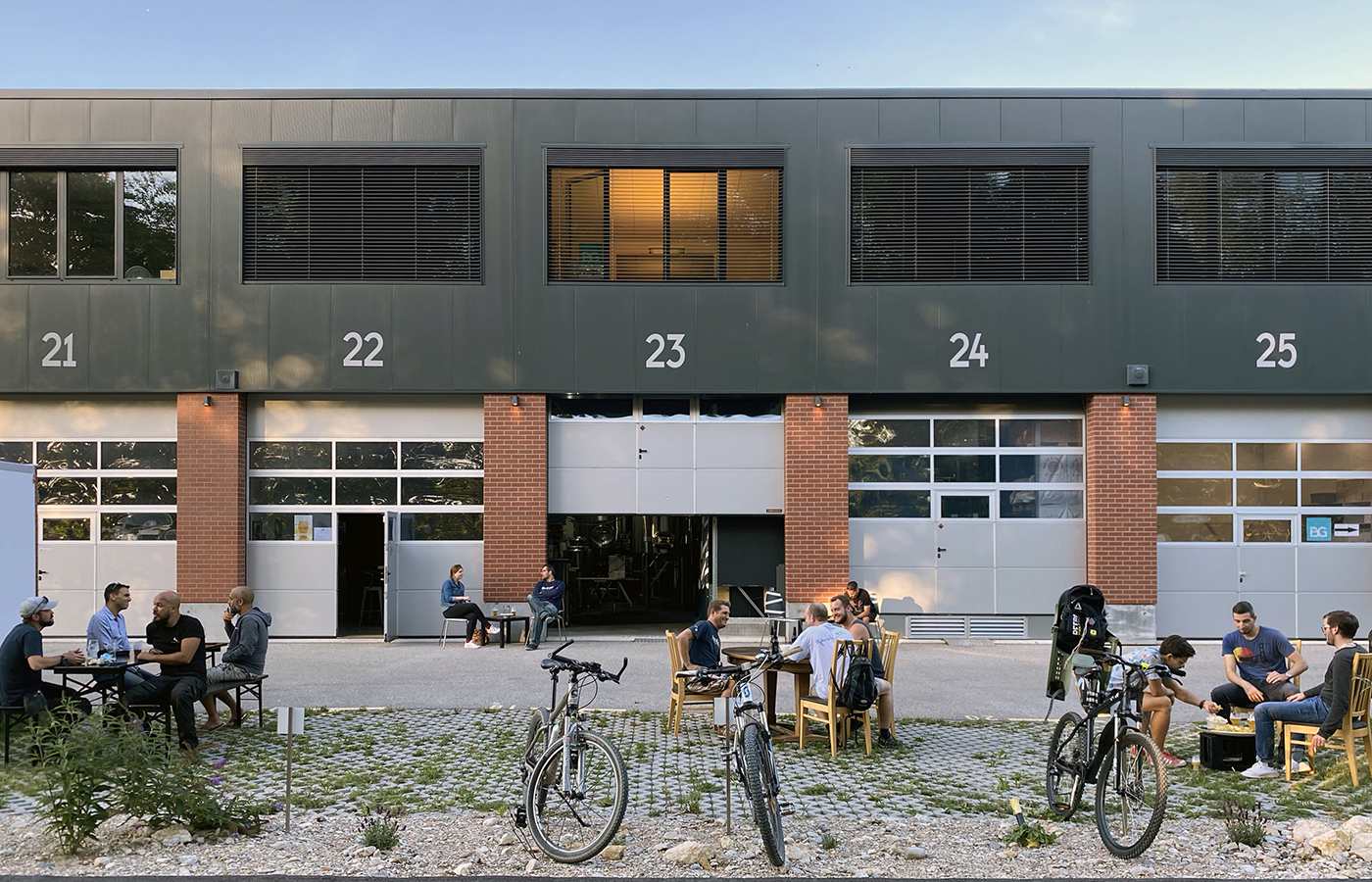 Yay! It's the return of the 'jeudredi'!
Here are the dates until year's end:
• from 5 to 9.30 p.m. on Thursday 29 September
• from 5 to 9.30 p.m. on Thursday 20 October
• from 5 to 9.30 p.m. on Thursday 24 November
• from 5 to 9.30 p.m. on Thursday 22 December
Please take note of a small change: on-line registration is mandatory.
We've had quite a few evenings where we had no idea how many visitors would show up, which made organising things very difficult. So, we ask you kindly to register for each event. Thanks for your understanding!
Admission costs CHF 5, so we will offer you your first 3dl beer on tap for free.
The links for on-line registration are below:
• September
• October
• November
• December
What is a 'jeudredi de biérologie'?
It's a Thursday evening where, in collaboration with ABAN (the Amis des brasseries artisanales neuchâteloises association), we open doors so that people can see the brewery, drink some draughts straight from the fermenters, have a snack or two and chat with the brewers. There's free popcorn!
Write to us for more information.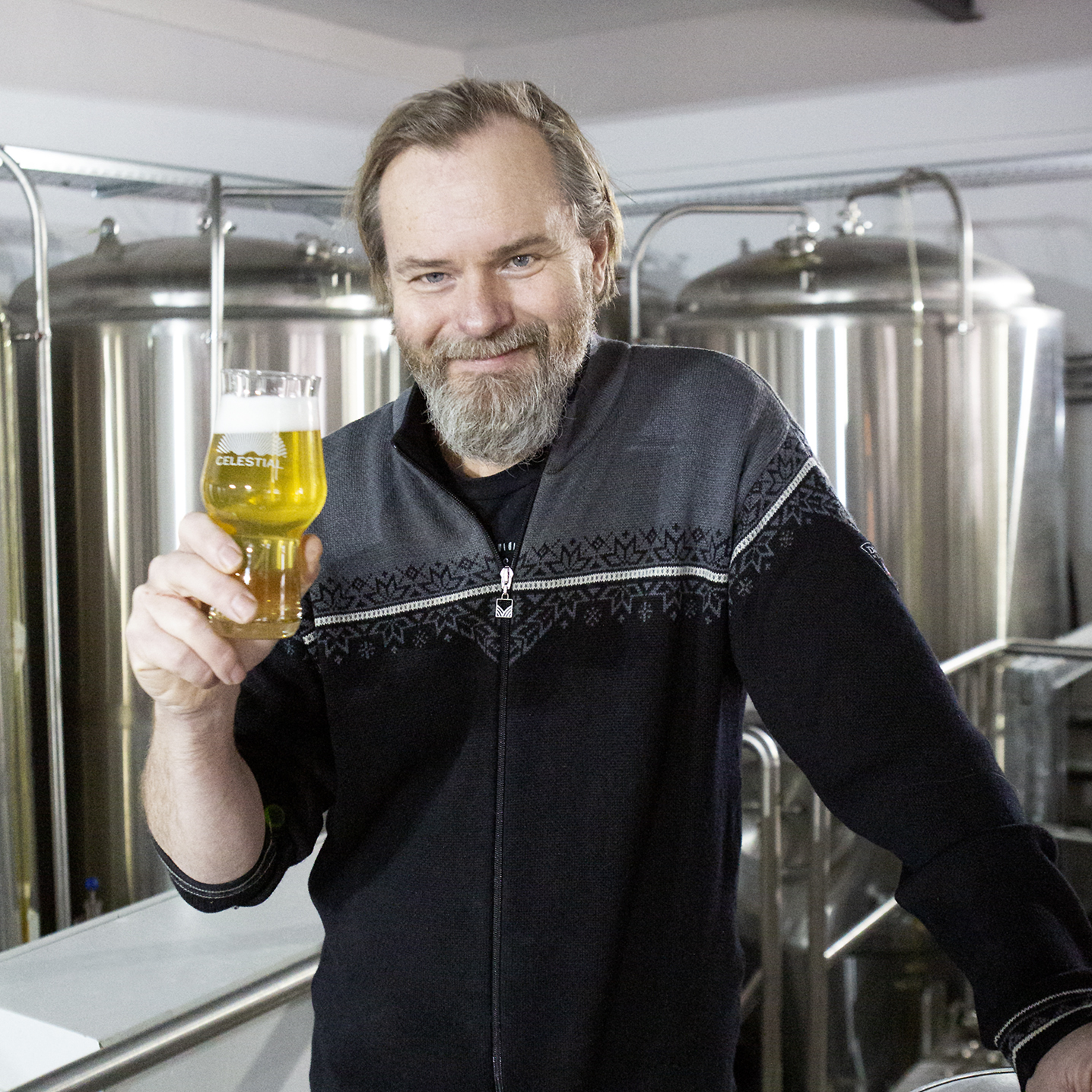 After a first inglorious attempt at the age of 14 at making alcohol by fermenting grapes in a plastic container under his bed in his hometown of Sveg, Sweden, Peter ended up studying IT. He moved to Neuchâtel in 1992 to work for an industrial design software multinational. During his business trips to California, Peter discovered Marin Brewing Company and Anchor Brewing, Sierra Nevada and Lagunitas beers – and became a keen craft beer enthusiast. He started brewing as a hobby, and as his taste for craft beer grew, his taste for endless business meetings diminished. In 2017 he decided to open his own independent craft brewery. Today he is in his element.
Marianne's great-great-great-great-grandmother, a 44-year-old widow, ran away with the 26-year-old Swedish gardener who worked on her family farm, provoking a massive scandal at the time. Unfortunately, Marianne's ancestor died before Jacob Letterstedt, the man who became her second husband, made a success of his project: the Mariendahl Brewery in Cape Town. It would later become one of the founding institutions of South African Breweries. Marianne, one of the founders Celestial, hopes to have her revenge on history for her forbear's sake. Today, as co-founder, she brews with Peter, imagines beer names and invents Celestial iconography.
Brasserie Celestial is located on the shore of lake Neuchâtel, near the city of Neuchâtel, about 200 metres from La Tène Beach.
The brewery is open for bottle sales from 2 p.m. to 6 p.m., Tuesday to Saturday.