Øxymore at Celestial (Photo: Arnaud Sierro)
Øxymore at Celestial (Photo: Arnaud Sierro)
7 Planets without Pluto at Celestial (Photo: Kean Walmsley)
On Saturday 20 August, we transformed the brewery into a concert hall for our 4th birthday bash. Two groups from Neuchâtel rocked our tanks and tuns!
The main act was Øxymore. The band was founded in 2015 by Dylan Quiquerez (drums) and Kylia Guerne (vocals), along with a few other friends from their secondary school. As Dylan explains, "In the beginning we just did covers for fun, but over the years the band became 'professional'."
Other musicians joined; the band released their debut album in 2019 and their first single in 2021.
Øxymore is a very eclectic community: "We come from very different musical universes. Pop, jazz, blues, rock, metal."
This can sometimes make composing tricky, especially since the band creates together, but it's mostly Kylia who writes the lyrics.
The band members are Kylia Guerne (vocals), Dylan Quiquerez (drums), Esteban Corral (bass), Max Moeschler (guitar/keyboard) and Lenny Jantscher (guitar).
The opening act was '7 Planets without Pluto', a band that delighted audiences with space-themed covers.
The group performed around 20 concerts in the Neuchâtel region this past summer for its 'Space 2022' tour and is made up of students from BBM74, Neuchâtel's renowned music school.
When asked about the songs they enjoy performing, the singer, Anokhi Walmsley, explains, "Europe's 'The Final Countdown' goes down really well with our audience… perhaps because it's often our parents' generation watching us…"
She laughs and adds: "We have a blast doing 'Space Cowboy' by Jamiroquai! »
The band members are Anokhi Starlight Walmsley (vocals), Roman Gerardi (bass), Mateo Gerardi (drums), Livio Dubois (guitar), Noah Mathys (guitar) and Melvin Grenet (keyboard).
Yes, women who don't like bitterness, who don't like beer or who would only drink the mildest possible beer if their beverage of choice was not available do, of course, exist. There's no problem with only liking mild flavours and there is room for all tastes. But reality runs deeper than the ever-so-flat stereotype we sometimes (often!) hear in Switzerland about women only liking sweet drinks. As brewers, we meet many women, whether brewers themselves, sommeliers or consumers, who lo-o-o-ove beer. We ask five such women to tell us about their tastes.
Léa Fluckiger (27), currently in the final year of her Master's in archaeology, describes herself as 'basic' in her beer tastes (she likes blanches and blondes, doesn't like bitterness and prefers Belgian styles), while Fabienne Lini (43), an educational coach, likes all styles of beer except witbier and sours. She often orders a large glass of coffee stout at our brewery.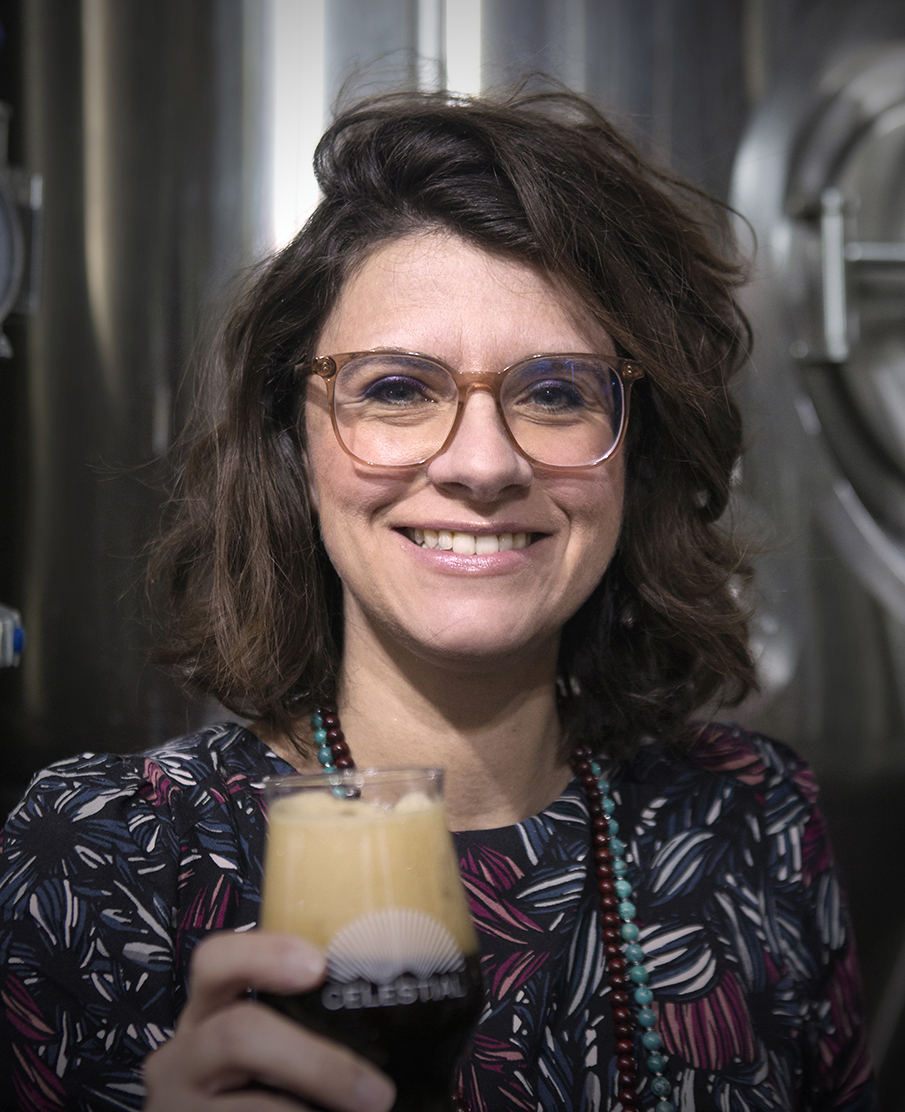 Camille Jéquier (35), a curatorial director, doesn't really like blanches either, preferring IPAs and stouts. "The bitterer, the better," she maintains.
Alexane Baume (24) and Claire Taillefert (25), both at a crossroads in their studies, love IPAs, but also pale ales, NEIPAs and, in the case of Claire, blanches.
Out of curiosity, we asked these beer lovers to name some other tipple they like to sip. The list contains Moscow mule (Alexane), Caipiroska (Claire), sweet cider (Léa), whiskey (Camille) and champagne (Fabienne).
However, they are unanimous in their preference for craft over industrial beer.
Alexane: You don't pop open a can of [lager of onetime Dutch origin] and say to yourself 'Wow, that smells good!'
Camille: When it comes to craft, there is a lot of variety from one brewery to the next. You can tell that they're looking to create taste, whereas industrial beers all taste as neutral as possible.
Fabienne: Craft beer is often seasonal and flavours change throughout the year. The beer changes with the seasons.

Claire Taillefert (left) & Alexane Baume
None of them like uniformity or insipidity. What do they think of beers brewed 'specially for women'?
Léa gets upset about an ad from a ubiquitous supermarket chain featuring 'a barbecue with alpha males by the grill on the one side and girls with their vegetable skewers on the other'. The women are inevitably drinking a brand of sweet, pink 'beer' with exotic fruit flavours. "It is absolutely moronic!" Lea exclaims.
Camille asks, "Why wouldn't women like real beers with bitterness?" This drink, like pink razors, is just another marketing stunt aimed at women, she believes.
Fabienne remembers drinking this type of 'beer' before craft beer was readily available. She specifically objects to the 'exotic fruit' aspect. She is an inveterate locavore and is committed to supporting the local economy.
The women do not consume beer in the same way. Claire explains that she drinks it 'everywhere: at [her] place, at bars, by the lake, at restaurants.' Alexane says, "A better question would be "Where don't you drink beer?'"
Léa enjoys beer for apéritif and associates it with evenings out.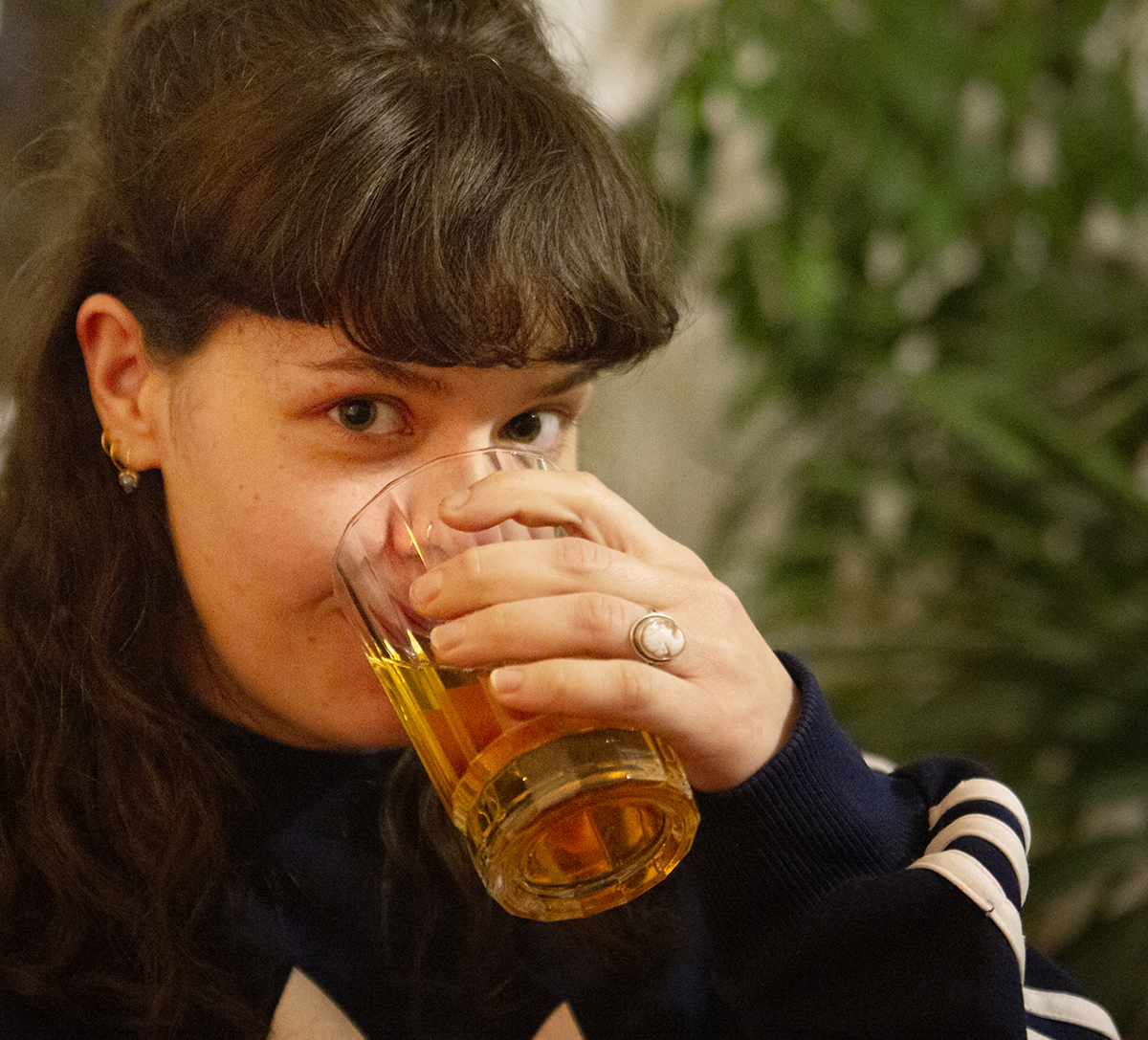 Camille likes to grab a beer with her friends after work, but also drinks beer at home. She often orders wine with a restaurant meal, but she lived in Italy for a long time, where people almost always order beer with their pizza. A perfect match, according to her.
Claire must have beer with a burger and fries, while Fabienne believes 'anything goes well with beer, depending on the style you're drinking.' Beer often accompanies her desserts.
Alexane and Claire don't just drink beer, they brew it.
Alexane tells us, "We brewed twice. The first beer smelt really good but had no taste. Something went wrong with the second one. It tasted off."
They want to start brewing again but the equipment they used was on loan and they have had to return it. They are looking for a new opportunity.
"If one of the readers of this article happens to be the generous donor of a home brewing kit, we'll take it," Claire says.
And here we conclude. We wanted to say that stereotypes reduce the complexity and the multiplicity of reality to simplistic images which become restrictive, because by propagating them we make them normative, but it's really not necessary to be so explicit. Five women simply talking about the ways they consume beer do the job far better. We thank them for agreeing to this conversation and leave the final, poetic word to Fabienne:
"This old cliché shouldn't play a role… Especially since beer nourishes body and soul."
We recommend the following article and video in French:
Julie Rambal, 2 August 2019, Le Temps
Une bière et Jivay, 7 February 2021, Youtube