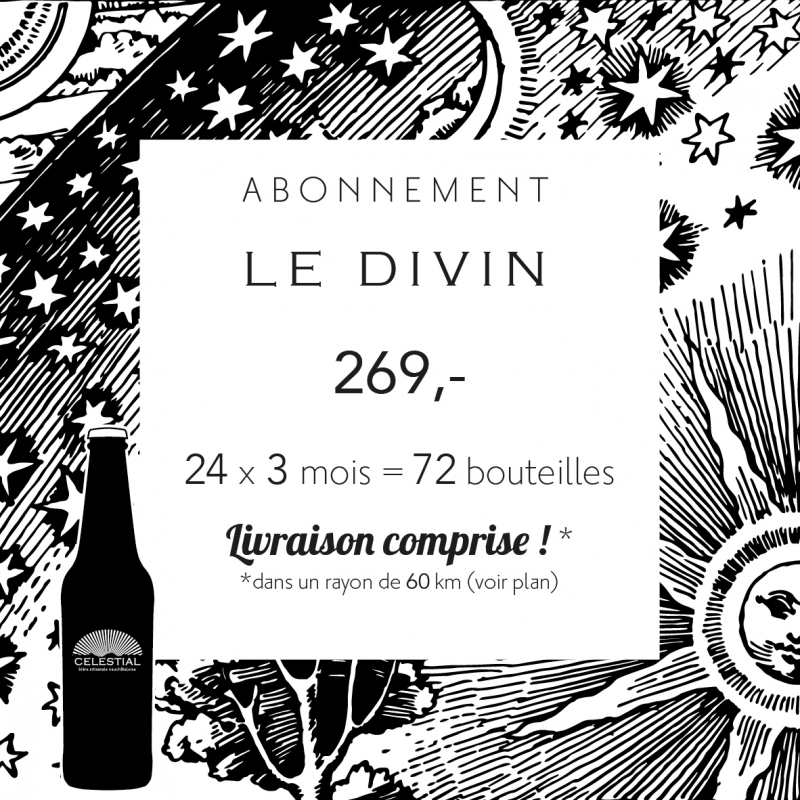  
3-month subscription: Le divin
LE DIVIN: a 3-month subscription
Delivery is included in the price (within a radius of 60 km from the brewery)
Delivery within a radius of 60 km around the brewery
The perfect gift for those you appreciate or for yourself!
L'intemporelle (organic witbier), La perche filante (organic blonde ale), Tène out of Tène (pale ale), Le 7ème ciel (IPA), Le dernier cri (juicy IPA), L'êlektron libre (amber ale) et L'autre monde (coffee stout)
Terms of delivery :
Delivery within the first eight days of the month
Delivery within a radius of 60 km around the brewery, only in Switzerland (see zone on the map above)
The delivery address can be changed if it is in the same municipality as the original delivery address, or if the recipient changes their address permanently and the new address is within the delivery radius of the brewery
Subscription months must be consecutive months. If the recipient goes on holiday, delivery may be postponed to the following month, at which time two deliveries will occur instead of one. For example, Joe receives a 6 month subscription, starting at the beginning of May. He goes on holiday at the beginning of July. He then postpones the delivery from July to August. In August, Jean will receive 48 bottles of beer instead of 24 bottles (lucky Joe!).
16 other products in the same category: